On our chef guided food tour we visit local farms to sample some of the region's finest produce. Learn of local history and farmer's stories, completed with a delicious 3 course lunch using ingredients collected on the day.
Four generations of Scomazzons have provided locals with the best quality, locally sourced produce available. If they don't grow it, they will try to find it within Far North Queensland.
Understanding and appreciating sustainable farming and living, the Scomazzons aim to provide spray free options as much as possible.
Their philosophy is: if you look after the land, it shall look after you. They also pride themselves on their tasty red papaya which are grown, nurtured and cared for on the family farm. You can find the family at the local Mossman market, every Saturday under the rain trees.
During our food tour, we visit their farm shop to pick up some fresh produce for our lunch. It also gives you the opportunity to see, smell and buy some local, exotic produce.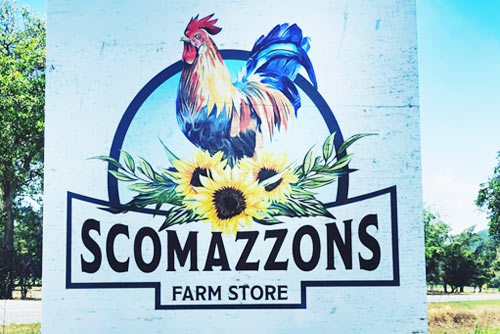 Daintree Saltwater Barramundi
Australian owned Daintree Saltwater Barramundi Fish Farm is managed by long term local, Mark Hober. He has always been passionate about Barramundi and grew up fishing in the Daintree River. Mark and his team are focused on best practice operations.
They source the finest salt water from the Daintree River to fill their large earthen ponds, replicating the natural conditions favoured by the Barramundi. Creating these conditions and letting the fish mature naturally over a 12 – 18 month period, means their fish is high quality. It's no wonder they have won so many awards for their product.
It's the best Barramundi I have ever tasted which is why I love cooking it for my guests. When we visit the farm, you will get a behind the scenes look at the so you have a full understanding of where your lunch has come from and how it is grown.
Shannonvale Tropical Fruit Winery
Tony and Trudy Woodall own the Shannonvale Tropical Fruit Winery where they have been creating tropical fruit wine since 2003.
Everything is done on their lush tropical property, from growing the tropical fruits in the orchard to producing the wine.
The Woodall's offer wine tasting on their veranda, underneath the jade vine and sell their wines from the cellar door. Most of their wines have won medals and, with exotic flavours like Jaboticaba, Passion Fruit, Lychee and Black Sapote, their wine tasting is a truly unique experience.
We are also grateful this beautiful spot is the venue where we cook up and serve your three course BBQ lunch.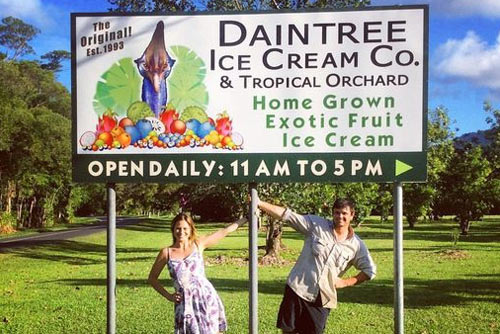 Established in 1993, the Daintree Ice Cream Co. is a world-famous tourist attraction specialising in home-grown fruit ice cream. 
Dave Mainwaring and Jenna Rumney purchased the 22-acre property in 2015 and have done amazing things with the property and the ice-cream since. They refurbished the commercial kitchen and purchased a top of the range, hand-built ice cream machine. This has helped to refine, perfect and deliver the very finest quality ice cream, gelatos and sorbets.
Another change they made was switching to organic farming to reduce nutrient runoff, a major issue affecting the Great Barrier Reef. They began planting native 'companion' plants to fix nitrogen and 'sacrificial' plants to stop pests eating fruit crops. They also introduced sustainably sourced compostable ice cream cups to reuse as compost.
Their organically grown fruit is the centrepiece of each recipe and they create their produce onsite in small batches.
Our dessert is created with their gelato and is the perfect finish to our lunch.
Regretfully the Daintree Ice Cream Company is located a bit too far away to include a visit in our Food Tour itinerary. I highly recommend you go and visit them in the Daintree during your stay in our region. You won't regret it.